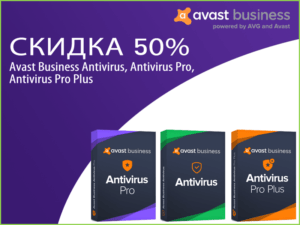 Внимание! Компания Идеалсофт, официальный дистрибьютор Avast Software, напоминает о супер-акции от Avast на всю линейку продуктов Business Antivirus:
Всем владельцам антивирусного ПО, при конкурентном переходе на годовую подписку на Avast Antivirus Business, Avast Antivirus Business Pro или Avast Antivirus Business Pro Plus предоставляется скидка 50%. И это еще не все! Компания Avast готова компенсировать (предоставив антивирус Avast в бесплатное использование на весь оставшийся срок действия другого антивируса. Как это работает? Например, вы использовали 3 месяца годовой подписки этого антивируса и вам надо оплатить оставшиеся 9 месяцев подписки?. В этом случае, вы получаете от Avast скидку 50% плюс 9+12 = 21 месяц бесплатного использования Avast Antivirus). Отметьте, компания Avast в праве попросить подтверждение существования подписки на существующее антивирусное ПО.
Акция действует только до конца 2019 года
Сравнение версий Avast Antivirus:
1- Antivirus
2- Antivirus Pro
3- Antivirus Pro Plus
1
2
3

File Shield

Scans any file that is opened or downloaded to make sure it's malware-free.

да
да
да

Web Shield

Checks web URLs and certificates to ensure they are safe before a network connection is made.

да
да
да

Email Shield

Inspects both incoming and outgoing emails to ensure they are completely malware-free.

да
да
да

Cyber Capture

Detects and analyzes rare, suspicious files in a safe, virtual environment.

да
да
да

Firewall

Monitors all network traffic between your PC and the outside world to prevent unauthorized communication.

да
да
да

Antispam

Keeps dangerous phishing emails and annoying spam from cluttering and compromising inboxes.

да
да
да

Smart Scan

Finds all those cracks that can allow malware to slip in, from unsafe settings and passwords the suspicious add-on and out-of-date software.

да
да
да

Sandbox

Isolates suspicious files in a safe, virtualized environment for deeper analysis by you and the Avast Threat Labs.

да
да
да

Wi-Fi Inspector

Scans networks for vulnerabilities, checks networks, device, and router settings, and identifies threats.

да
да
да

Real Site

Protects against DNS (Domain Name System) hijacking to ensure you reach the website you want to visit.

да
да
да

Rescue Disk

Enables you to boot up a PC that has been infected with malware from a USB that contains a clean version of your system.

да
да
да

Security Browser

Extension Scans websites for reputation and authenticity, blocks ads, and puts you in a super-safe mode when it is time for online banking.

да
да
да

Software Updater

Keeps commonly used third-party software up-to-date to eliminate potential security exploits.

да
да
да

Data Shredder

Overwrites files multiple times to permanently erase sensitive data making it irretrievable.

нет
да
да

Exchange Server Protection

Scans and filters emails at the Exchange server level stopping potential attacks before they spread to the network.

нет
да
да

Checks all the files uploaded onto your shared storage to ensure no malware gets the chance to compromise your data.

нет
да
да

Passwords

Protects employees' login details with a secure master password. Includes a browser add-on for easy, secure auto-filling.

нет
нет
да

Secure Line VPN

Encrypts your data and secures your connection when using public Wifi connections, such as those in cafes or airports.

нет
нет
да

Browser Cleanup

Checks browsers for add-ons with poor reputation and removes cookies that contain personal information.

нет
нет
да

Webcam Shield

Prevents applications and malware from accessing your PC's webcam without your consent.

нет
нет
да
Хотите получить дополнительную информацию или принять участие в Акции?
---